Am CH Rock Run Kaspar, CGC, "Kaspar"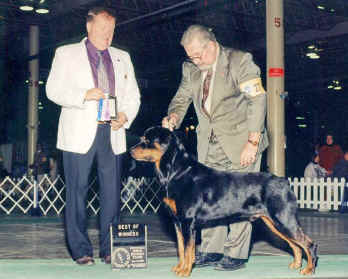 Best of Winners for 4-points with George Murray, Nov. 16, 2003.

Rock Run Kaspar, "Kaspar" was born on 12-19-97. Since there were only three pups in this litter, and since they were born close to Christmas, Kaspar was named after one of the three Magi.
Kaspar is a large, strong robust dog with wonderful movement and topline. He is black and mahogany with a nice dark pigmented mouth. He is OFA "good". When Kaspar was four months old, he went Best in Match his first day out. His first day at a point show, he went Best of Winners for two points, just missing a major by 1 dog! In 2001, Kaspar sired 13 beautifully tempered pups. He likes to cart, loves to swim and hang out with his three-year-old "human" sister, Sydney. Kaspar was a therapy dog at the local nursing home, and everyone enjoyed the "big, gentle" dog.
Kaspar finished his AKC championship in December, 2003. He will be shown in Canada, and at select shows in the states in 2004.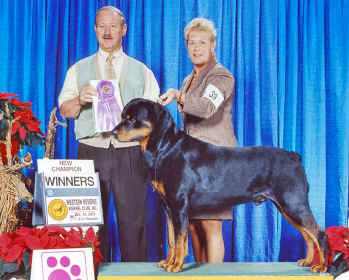 New Champion, Dec. 14, 2003.


Home Rottweilers Griffons Litters Puppies Contact Us Privacy Policy
Copyright 2011 Rock Run Kennels